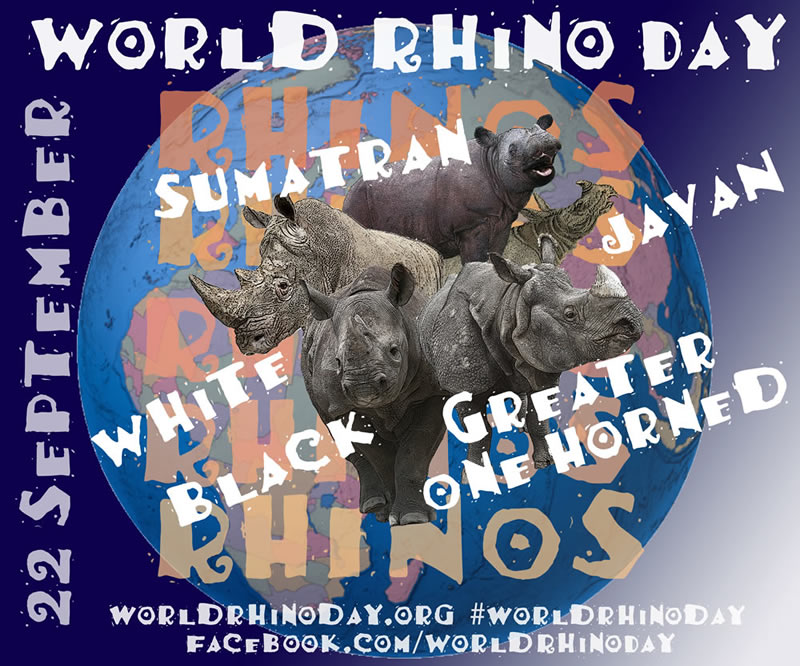 Thank you for an awesome World Rhino Day 2013!

Here is what happened on World Rhino Day 2013: [/caption]

Events listed by country:
AUSTRALIA
Werribee Open Range Zoo will be running the following activities for World Rhino Day:
Rhino Rap with Rap artist 'Hugo' and Zoo Member children will be written and
recorded with an accompanying video clip prior to the event for showing on the day,
and for weeks after;
Rhino play with puppet theatre, rhino foot print stamps, baby toy rhinos to feed;
Rhino information, jokes/riddles and messaging at our Safari Bus Station.
For more information:

(Source: Yvette Finlay)
---
Taronga Western Plains Zoo, in Dubbo, NSW, Australia will be joining people across the globe to celebrate WORLD RHINO DAY 2013, over the weekend of 21st and 22nd September.

Taronga Western Plains Zoo's visitors already support the zoo's breeding programs for 3 of the world's 5 rhino species. But by visiting us on the 21st and 22nd September, you can help out a little bit more …

Visitors can help us raise vital funds for our conservation partner, the International Rhino Foundation (IRF)!
Enter the zoo and follow our 'Rhino Trail'; discover more about the world's rhinos
and what is being done to help them, at our special World Rhino Day keeper talks and
rhino feeds!
Lucky guests of our Wild Africa Encounter, Billabong Camp or Zoofari experiences
will get the chance to see some of our resident rhinos up close, and discover more
about their conservation.
Visitors have the chance to WIN a Wild Africa Encounter for 4 people! PLUS the Zoo's Education department will also be running rhino themed classes and'Zoo Adventures', there will be donation buckets at the 'Jump for Rhinos!' jumping castle, and 'Munch for Rhinos!' Munch Mobile, and staff will be raising extra money with raffles and rhino crafts!
Can't visit us that weekend? Don't worry, as our 'Rhino Trail' is also online!

Sharing links, photos and stories via social media is proving invaluable as a way of spreading the word and raising awareness. So look out for more rhino keeper blogs on our website (www.taronga.org.au) and on our Facebook page (www.facebook.com/TarongaWesternPlainsZoo).

(Source: Katie Boyer)
---
CZECH REPUBLIC
Zoo Dvur Kralove, home of one of the last seven surviving Northern White Rhinos is celebrating World #Rhino Day. Rhino keepers and Dante Burdych of Everest trek for rhinos will be talking about rhinos!
GERMANY
The Frankfurt Zoological Society is hosting a World Rhino Day event all day on September 22!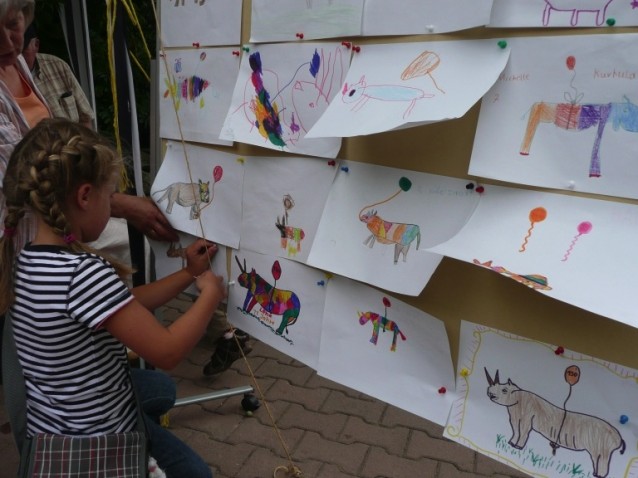 Frankfurt Zoological Society's volunteer-group "Conservation Ambassadors" will play games with the kids and host a rhino painting contest.
They will share latest news from the field, i.e. from our projects in Zimbabwe, Zambia and Tanzania about the situation of rhinos in these countries.
The rhino keeper from Frankfurt zoo will host a keeper talk and inform visitors about rhinos and will feed the animals together with the children.
Connect: facebook.com/Frankfurt.Zoological.Society
---
INDONESIA
Bali Safari & Marine Park is celebrating World Rhino Day!
IRELAND
World Rhino Day is being celebrated at the Dublin Zoo with keeper talks highlighting the rhino plight and fun facts about the 5 species. There is also facepainting at the African Savanna! A portion of the proceeds from rhino products sold at the zoo gift shop will be donated to Lowveld Rhino Trust!
---
ITALY
There will be an authorized demonstration in Rome on Sunday, September 22 at 16.30 in Piazza del Popolo.
KENYA
Lewa Wildlife Conservancy in Kenya invites you to get involved by sharing your rhino photos on their Facebook page and adding a caption! Write an encouraging message that will reach out to millions of people urging them to help save this species.
MALAYSIA
TRAFFIC Southeast Asia, headquartered in Kuala Lumpur, is planning a virtual World Rhino Day event and will be sharing rhino photos, facts, and other information on their Facebook page.

Time zone alert: Malaysia will be the first rhino range state to welcome World Rhino Day! Malaysia is home to a handful of wild Sumatran rhinos, as well as a rescue center, where three rhinos are currently residing.
NEPAL
In the Chitwan National Park buffer zone, Mrigakunja User Committee will hold a World Rhino Day celebration featuring a drawing and essay competition among the eco-club members at local schools.
---
NETHERLANDS
Rotterdam Zoo has set up an education booth about all five rhino species!
NEW ZEALAND
Auckland Zoo in New Zealand is celebrating World Rhino Day on Saturday 21st and Sunday 22nd September.

To raise money for the Auckland Zoo Conservation Fund (which currently supports Rhino conservation) all our Rhino keepers are having their heads shaved on Rhino weekend!

Auckland Zoo will have the following activities:
3 Rhino encounters each day.
Each visitor to the Zoo will receive a handout with a Rhino quiz and a rhino colouring in activity.
Rhino touch table with rhino artifacts
Competition to guess how much a wheelbarrow full of Rhino poo weighs
Display of how much food a Rhino eats per day
Display of Rhino enrichment items
Rhino hats as giveaways
Information displays about the 5 different types of Rhino
Information about our 3 rhinos and how to tell them apart
Information on the different features of rhinos, i.e., their ears, horn, skin etc.
Facepainting!
Connect with Auckland Zoo on Facebook.

(Source: Zoe Firth)
---
SOUTH AFRICA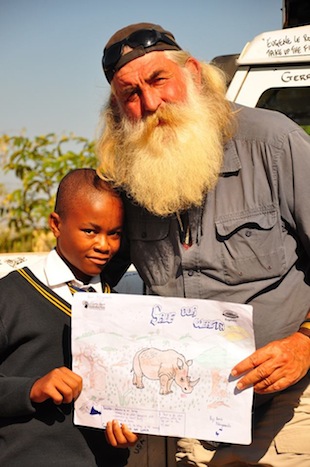 Join Project Rhino KZN and Kinglsey Holgate for World Rhino Weekend at the Boardwalk Shopping Centre, where more than 5,000 pieces of rhino art created by children in South Africa, Mozambique, and Swaziland will be on display!

Kingsley Holgate and other celebrities will be speaking to an estimated 30,000 visitors over the weekend and South African soccer team — Thanda Rhinos — will make a special appearance. White "rhino crosses" will be sold to raise funds for Project Rhino KZN's work and schools, businesses, artists and conservation leaders are lining up to take part in this weekend of targeted action, fundraising and awareness!

Project Rhino KZN has also created two three-minute video clips (in English and Vietnamese). In these, children from KwaZulu-Natal speak out vehemently against rhino poaching and their words are supported by thousands of hand-drawn pictures from children in the rest of South Africa, Mozambique and Swaziland. Project Rhino KZN encourages all World Rhino Day supporters to hear the heartfelt pleas of children asking for rhino poaching to be stopped, and to share the videos!
---
No one is too young to celebrate World Rhino Day: A talented group of nursery school children in South Africa have created a rhino out of cardboard boxes and newspaper, and giving it a colorful paint job.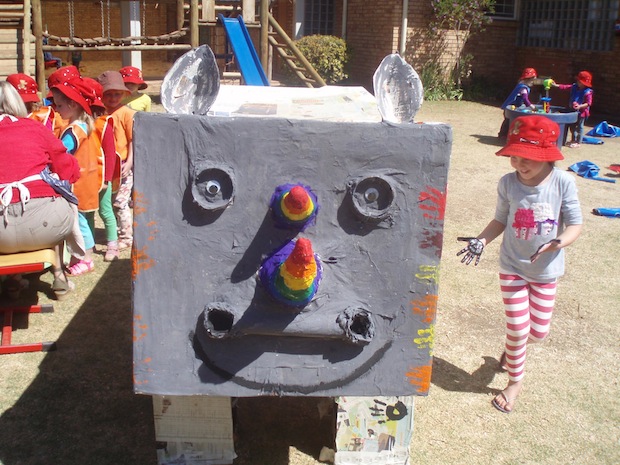 The rhino will be displayed on the corner of Napier and San Souci Roads in Parktown for World Rhino Day!
---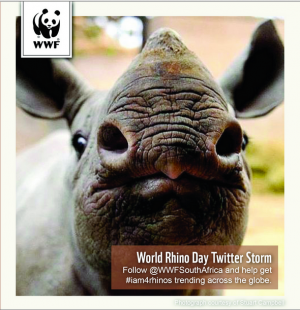 WWF-South Africa is leading a World Rhino Day Twitter storm! During the week leading up to September 22, the Twitterverse is invited to join the global celebration of the five rhino species and help get #iam4rhinos trending across the globe.
---
A World Rhino Day March will be held on Saturday, 21 September 2013, at 8:00 AM in Pretoria, from Church Square to Pretoria National Zoo! The march is organized by Unite Against Rhino Poaching, South African National Parks and the Department of Environmental Affairs.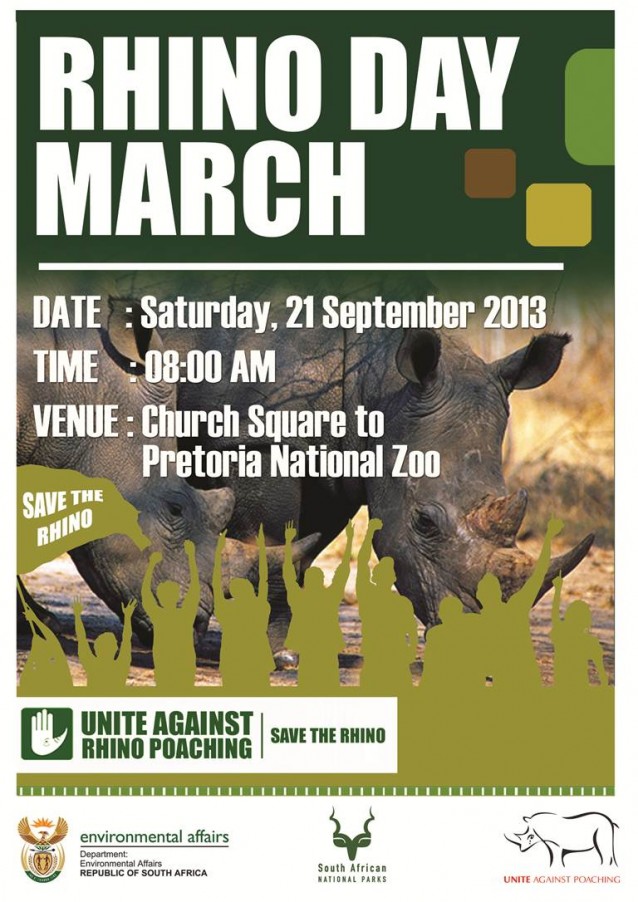 ---
In celebration of World Rhino Day weekend, Goldfields Mall in Welkom is giving customers the opportunity to clad their rhino sculpture "Mapompana" (the Short Fat One) in R10 notes on Saturday 21 September in aid of Anti Poaching.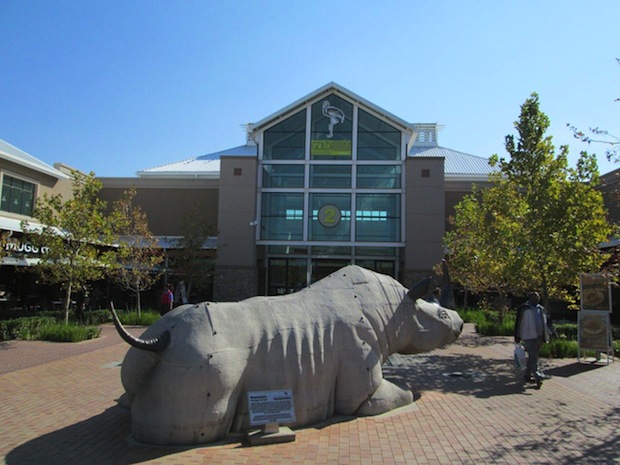 Mapompana is one of the largest solid concrete rhino sculptures in South Africa and is loved by young and old. Children have become accustomed to climbing on Mapompana whilst parents enjoy refreshments
in the Piazza.
---
For the second year in a row, a "Paint-a-thon" will be held at Greenwhich College in Johannesburg, South Africa. Student volunteers are giving up their Saturday night to paint pictures of rhinos. The emphasis is to paint at night in order to also raise awareness that this is when the rhinos are most vulnerable. Photo courtesy of Natasha Griffiths.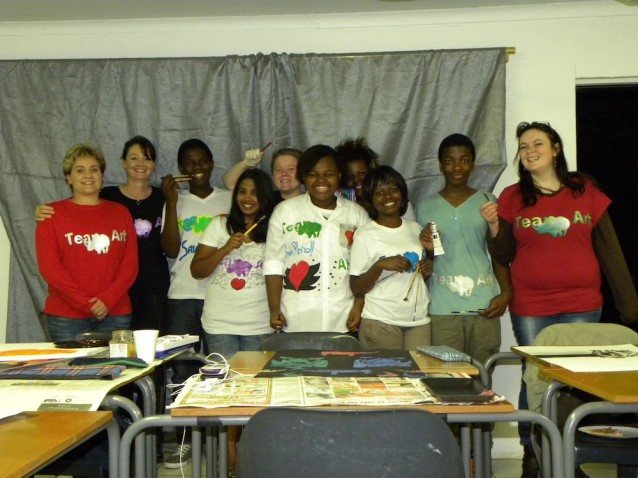 ---
Rhino Force Bracelets: These cool beaded bracelets are raising funds for rhino conservation and NGOs such as Save the Rhino International. World Rhino Day is the perfect time to wear a Rhino Force Bracelet!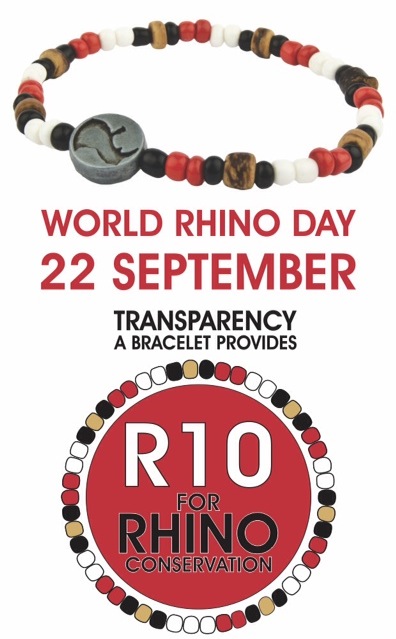 ---
The Kingdom of Heaven is planning an event for the 22nd September 2013 to be held in Brits Stadium, situated in North West Province. Funds for our Rhinos will be raised and the awareness will be made. There will be a braai for families on that day. For further details , please contact Daniel Ndlovu on 073 094 4232.
---
Kwandwe Private Game Reserve in South Africa will be hosting a week-long programme of interactive and educational activities for guests, staff and local communities.

For guests on the reserve, activities include the opportunity to go on a Rhino Walk to view these extraordinary animals on foot, led by a specialised ranger and tracker team. Normally offered at an extra cost, there will be no charge during the week (no pun intended!) in celebration of this special occasion. On the 22nd there will also be a rhino talk at each lodge at different times during the day, hosted by general manager Graeme Mann. Children will be encouraged to get involved by drawing pictures and baking biscuits in the shape of a rhino, and posting them on Kwandwe's Facebook page. All guests will also receive a small gift as a memento of this special day.

Conservation lessons will be given at the local community schools by Kwandwe rangers, explaining the importance of protecting this species for future generations. With the assistance of the Angus Gillis Foundation, the Mgcambele Community Centre preschool will make cards and bake biscuits, which will be displayed at and served for guests' afternoon tea on the 22nd.

Connect: facebook.com/Kwandwe
---
The Enviropaedia is auctioning a commissioned #rhino painting at the Eco-Logic Awards 2013 on 26 September, the proceeds of which will be donated to the Endangered Wildlife Trust's Rhino Programme!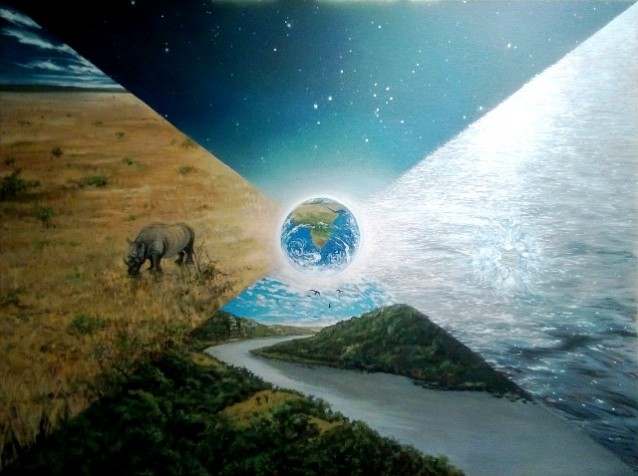 After covering the cost of materials and transport, 100% of the balance of the amount raised by the Auction will be given to Endangered Wildlife Trust's Rhino Programme.

Connect: facebook.com/Enviropaedia
UK
This year Save the Rhino plans to send 5 of our famous rhino costumes across the UK to take part in local events. We'll also be holding our own event here in London.

We are looking for 5 enthusiastic volunteers and would like to hear your ideas. What would you do with a rhino costume for a day? For your chance to be involved with World Rhino Day, please visit our website at savetherhino.org and download our short application form. You can also get in touch with Katherine at katherine (at) savetherhino (dot) org for more information, or phone us on 020 7357 7474.
---
Port Lympne Wildlife Park in Kent, home to 15 (!) black rhinos is hosting a World Rhino Weekend, with lots of fun activities planned to ensure everyone learns something new about rhinos!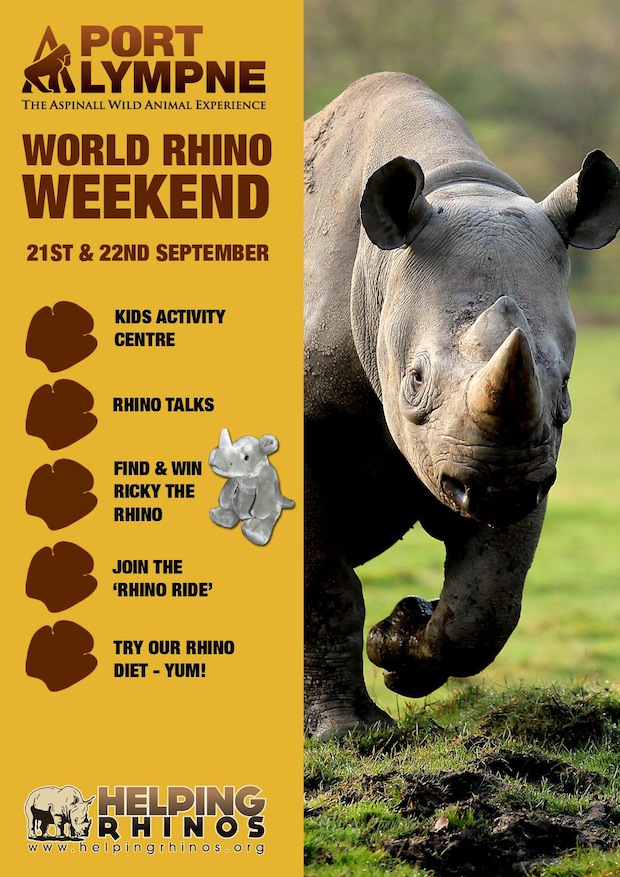 ---
"The Changing Face of the Rhino" will be presented on September 18th at the Royal Geographical Society in London with Dr. William Fowlds, a South African safari veterinarian. Tickets can be purchased from rhinolecture.eventbrite.co.uk and cost £20 including a drinks reception from 6pm.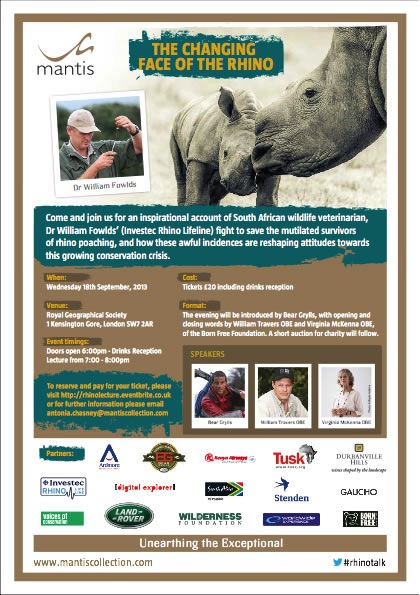 This event aims to raise awareness for the plight of the rhino through, and also to raise charitable funds to continue the work of, the educative curriculum of Voices of Conservation, along with supporting TUSK Trust and Born Free Foundation.
---
Celebrate the last day of Marwell Wildlife Go! Rhinos trail with a visit to Southampton to see the incredible rhino sculptures before their departure to Marwell Zoo and subsequent auction. Download the free Go! Rhinos smartphone app or a trail map from gorhinos.co.uk.
Be sure to attend the Marwell Saving Species presentation at the Rhino enclosure at 4.15pm for a free raffle ticket to meet Kiri and Sula, their gorgeous white rhinos, and enter to win a face-to-face encounter with these gentle giants on the day. This prize is for up to four people!
---
Colchester Zoo will be supporting World Rhino Day, celebrating all five remaining rhino species and raising awareness about the trade in rhino horn! On Sunday 22 September, the Zoo will host a stall near the rhino enclosure with information on the current poaching crisis, the five remaining rhino species and information about rhinos at Colchester Zoo and on the UmPhafa Private Nature Reserve. You can help raise funds for the zoo's chosen charity, Save the Rhino International, by purchasing rhino items from the stall, making rhino badges and masks and taking part in rhino-related activities.
Colchester Zoo's rhino keepers are also offering a special opportunity for 50 people to meet Flossy the rhino! This will be a first come, first served event; with 2 groups of 25 visitors taking part at two times slots throughout the day. A requested minimum donation of £5 for adults and £3 for children is required for this special session, and tickets will be available at the stall (Please note, 10 – 15 year old children only are permitted to take part in this event and all children must be supervised by an adult). All proceeds will go towards Action for the Wild's support of Save the Rhinos.
---
Join Knowsley Safari Park on Sunday 22 September to celebrate World Rhino Day and get the know the largest of the 5 species of rhino – the white rhino!
The rhino team is devoting the day to giving guided rhino tours. The tours are guided by our rhino team and last approximately 30 minutes including getting to and back from the rhino reserve. Tickets are £5 per person and 100% of the money is going to rhino conservation. TOURS START at 11:30AM, FINAL TOUR at 3:30PM! Places are limited!
There are also rhino activities going on in the Wild at Art building, including updates from the keepers from when they went to Zimbabwe to visit the Lowveld Rhino Trust in action.
Throughout the month of September, Knowsley Safari Park will also be calling for visitors to donate their finger and toenail clippings in a bid to debunk the myth that rhino horn has medicinal properties.
Despite the fact that both human nails and rhino horn are both made of keratin, rhino horn continues to be in high demand in traditional Asian medicine, a factor that contributes to the escalating poaching crisis. The collection will continue to run in the Wild at Art centre until we reach enough clippings to equate to an adult rhinos' horn. They will then be crafted into artwork be put on display and then sent to South Africa ahead of the CITES meeting in 2016.
---
There will be an anti-poaching conga line in Bristo Square, Edinburgh, on 22 September from 12:00 – 2:00 pm! The leader of the conga line will be wearing one of those amazing costumes from Save the Rhino International!
There will be music, pamphlets to hand out, signs and home made rhino horns that people can have (for a small donation) and wear on their heads to support our fellow rhinos! The horns will be numbered, and two lucky people can win prizes! First prize is a family voucher to Edinburgh Zoo (terms & conditions apply) and second prize is a wooden rhino construction kit.
"We will also be at the Edinburgh Zoo on Saturday 21st September from 12:00 pm with the rhino costume to raise awareness, encourage people to go see the Indian rhinos and advertise our event for the following day."
Connect here.
---
USA
The Buffalo Zoo in New York will hold a special event on World Rhino Day to raise funds for the International Rhino Foundation. Tickets are $5 and include a presentation on the five rhinos species, raffles, snacks, and refreshments.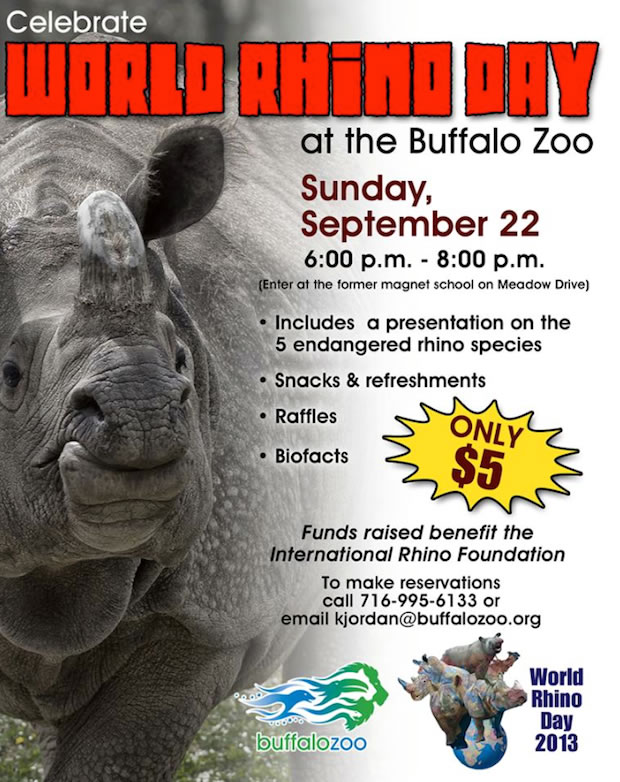 The Henry Vilas Zoo in Madison, WI, will hold a World Rhino Day celebration on September 22 from 3:00 pm — 6:00 pm at Capital Brewery, located at 7734 Terrace Avenue in Middleton.
The event will feature Rhino Facts Trivia and Raffle Drawings. Times and raffle items will be added soon!
Connect with Henry Vilas Zoo on Facebook.
(Source: Shane Elsinger)
---
The San Diego chapter of the International Rhino Keeper Association is celebrating World Rhino Day by hosting a party called "Winos for Rhinos" from 3:00 pm to 6:00 pm at Vinz Wine Bar, located at 201 E Grand Ave, Escondido, CA 92025!
This event features wine tasting and a wine raffle! From 11:30 am to 6:00 pm, 20% of Vinz Wine Bar's proceeds will go to the International Rhino Keeper Association.
(Source: Amanda Lussier)
---
The Saint Louis Zoo is thrilled to celebrate World Rhino Day on September 21st from 10am – 3pm. Come on out to visit the rhinos in the River's Edge. There will be crafts and activities for kids and give-a-ways, including bookmarks and wristbands! Talk with a rhino keeper and help save the critically endangered black rhino!
---
Milwaukee County Zoo (located in Milwaukee, Wisconsin) is celebrating World Rhino Day with two keeper talks to learn about the five species of rhinos, the poaching epidemic, and the Milwaukee County Zoo's two black rhinos, Mimi and Brewster. Talks will be given in front of the outdoor black rhino exhibits at 11 a.m. and 2:30 p.m.
---
The Columbus Zoo and Aquarium will have an Education Table set up in front of the pachyderm building with a rhino awareness board, handouts with rhino facts, coloring sheets, and ticket information for a rhino lecture that will be held at the Fawcett Center here in Columbus in November. There will also be games for the kids and TWO special rhino keeper talks/training demos!
---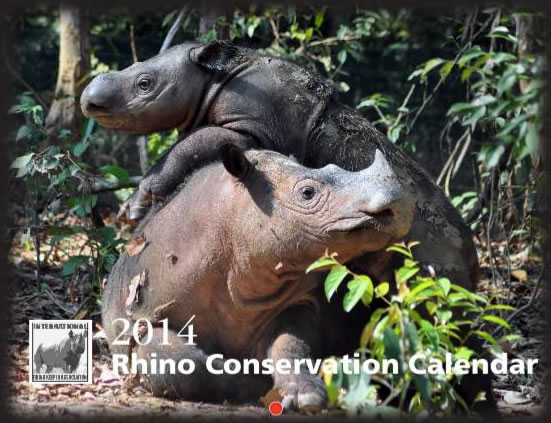 The International Rhino Keeper AssociationRhino Conservation Calendars are NOW on sale for $22 USD until September 22nd (and $26 after 9/22). Calendar sales directly benefit the Sumatran Rhino Sanctuary! Download the 2014 Rhino Conservation Calendar order form.
---
September marks the return of Megafauna to the Lost Rhino Brewing Company beer menu! The popular offering, introduced last year, pays homage to the Brewery's rhino namesake. Megafauna translates as "large animal" and is fittingly making its comeback appearance during the month when World Rhino Day is celebrated, September 22nd.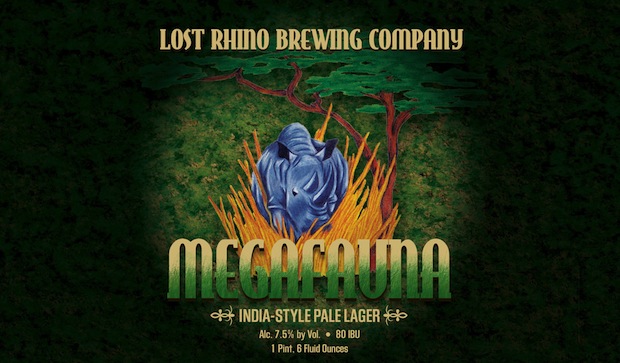 For every pint of Megafauna ordered in the Tasting Room during the month of September, Lost Rhino will donate 25¢ to Save the Rhino International!
---
Annamiticus will launch Episode 1 of the educational web series "Ancient Rhinos of Southeast Asia" on September 22. "Ancient Rhinos of Southeast Asia" is an educational web series which takes viewers on a historical journey of two Asian rhino species from their once plentiful existence to their decimation, and finally, to today's unprecedented international effort to rescue these critically endangered megafauna from the edge of extinction.
Wondering what to wear on World Rhino Day?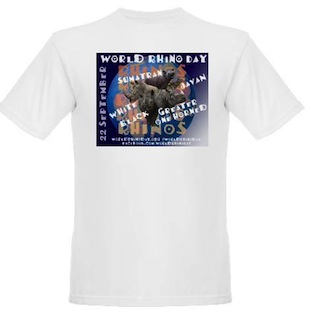 How about a
rhino t-shirt
: Annamiticus is contributing t-shirt proceeds from the month of September to the
International Rhino Foundation
's Sumatran and Javan rhino conservation programs. These two species are the rarest of rhinos: The Sumatran rhino currently numbers fewer than 100, and there are no more than 50 Javan rhinos still surviving.
---
The Houston Zoo will celebrate all things rhino, all weekend: September 21 AND September 22! One day is just not enough to spread the word about one of the world's most endangered species!
Join Houston Zoo rhino keepers at the rhino habitat in The African Forest at the Houston Zoo for fun activities and crafts for children; meet the zoo's rhino mascot and enjoy informative "Meet the Keeper Talks" and enrichment presentations.
Cruise the Rhino Market and shop for unique 'rhino-centric' merchandise including conservation bracelets, photos, finger puppets and buttons with a rhino theme. All proceeds from the sale will benefit the Lowveld Rhino Trust, which is helping to educate school children in Zimbabwe about rhinos and other animals!
You can be a Rhino Hero this weekend when you donate a wildlife book! Contribute to rhino conservation when you bring a new or gently used book about wildlife to donate to our friends in the field who are protecting rhinos in Africa. These books will be used to educate local communities in Zimbabwe about their amazing wildlife. Each person that donates a book this weekend will receive a rhino conservation bracelet AND a Houston Zoo Conservation Hero pin!

Connect: facebook.com/houstonzoo

---

VIETNAM

Education for Nature – Vietnam (ENV) has released a new PSA to increase awareness about the plight of the world's rhinos. You can help spread the word by watching and sharing the video now:

---

ZIMBABWE

World Rhino Day commemorations at Lake Chivero in Zimbabwe: "The Animal and Wildlife Area Research and Rehabilitation (Aware) Trust with National Parks is organising a weekend World Rhino Day Commemoration in Lake Chivero National Park.

Aware Trust is organising a fund-raising Walk, Run and Mountain Bike Ride for Rhino on September 28 in the National Park in co-operation with parks personnel and is encouraging participants to make a weekend of it and come out to the lake for the day or the full weekend."

More info about the Zimbabwe event here.

Matopos World Heritage Site Rhino Fun Day on 22 September! A family fun day with a 5k walk/run/cycle for those energetic people or a 25k or 30k cycle in Matopos National Park!

---

Please register your event here: info (at) worldrhinoday (dot) org or post to the World Rhino Day Facebook page: facebook.com/WorldRhinoDay