#WorldRhinoDay
Kingsley Heath, the renowned South African luxury clothing brand, is initiating an exciting campaign to raise funds for the worldwide conservation of rhinos.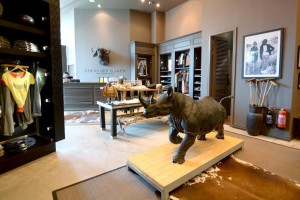 To raise awareness for rhino conservation, Kingsley Heath is running a Facebook competition titled 'Save the Rhino' in the UAE. Users can upload their own, personalized rhino designs, where the public will be given the opportunity to vote for their favourite one. The rhino design receiving the highest number of votes will be sent to the Kingsley Heath creative designers in South Africa, where it will be printed on to a limited edition Kingsley Heath T-shirt.
"Furthermore, one can shop at Kingsley Heath to support the important cause. In collaboration with the Wildlands Conservation Trust (South Africa), Kingsley Heath is contributing a percentage of its proceeds generated on 22nd September 2014 towards the initiative. The money raised will be allocated to the Project Rhino Tracker, which aims to provide us with updated information of rhino-related statistics," stated Bhumika Nasta, Brand Representative of Kingsley Heath UAE.