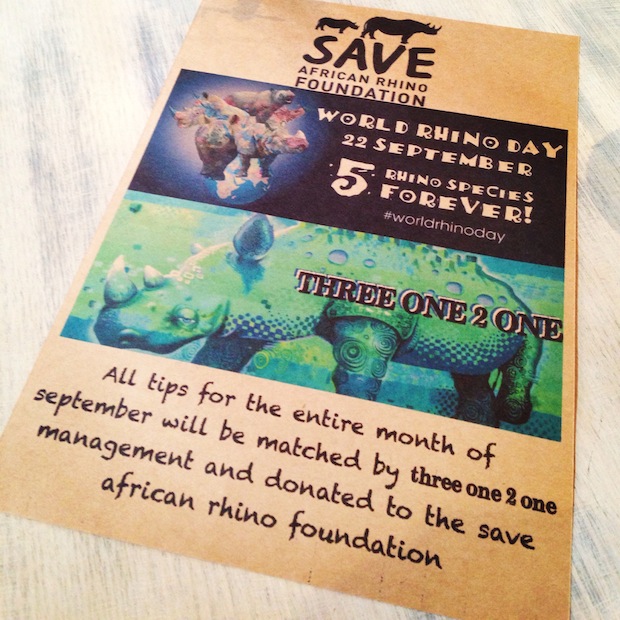 Three One 2 One cafe in Richmond, Victoria (Australia) is matching all tips for the month of September for a donation to SAVE African Rhino Foundation!
---
Werribee Open Range Zoo will be running the following activities for World Rhino Day:
Rhino Rap with Rap artist 'Hugo' and Zoo Member children will be written and recorded with an accompanying video clip prior to the event for showing on the day, and for weeks after;
Rhino play with puppet theatre, rhino foot print stamps, baby toy rhinos to feed;
Rhino information, jokes/riddles and messaging at our Safari Bus Station.
For more information:
---
Taronga Western Plains Zoo, in Dubbo, NSW, Australia will be joining people across the globe to celebrate WORLD RHINO DAY 2013, over the weekend of 21st and 22nd September.
Taronga Western Plains Zoo's visitors already support the zoo's breeding programs for 3 of the world's 5 rhino species. But by visiting us on the 21st and 22nd September, you can help out a little bit more …
Visitors can help us raise vital funds for our conservation partner, the International Rhino Foundation (IRF)!
Enter the zoo and follow our 'Rhino Trail'; discover more about the world's rhinos
and what is being done to help them, at our special World Rhino Day keeper talks and
rhino feeds!
Lucky guests of our Wild Africa Encounter, Billabong Camp or Zoofari experiences
will get the chance to see some of our resident rhinos up close, and discover more
about their conservation.
Visitors have the chance to WIN a Wild Africa Encounter for 4 people! PLUS the Zoo's Education department will also be running rhino themed classes and'Zoo Adventures', there will be donation buckets at the 'Jump for Rhinos!' jumping castle, and 'Munch for Rhinos!' Munch Mobile, and staff will be raising extra money with raffles and rhino crafts!
Can't visit us that weekend? Don't worry, as our 'Rhino Trail' is also online!
Sharing links, photos and stories via social media is proving invaluable as a way of spreading the word and raising awareness. So look out for more rhino keeper blogs on our website (www.taronga.org.au) and on our Facebook page (www.facebook.com/TarongaWesternPlainsZoo).
---