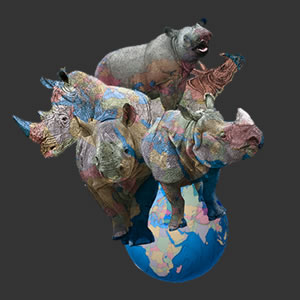 World Rhino Day is an international team effort coordinated by Lisa Jane Campbell of Chishakwe Ranch in Zimbabwe and Rhishja Cota-Larson of Annamiticus in the US.
It all started with an email.
In mid-2011, Lisa Jane was already planning ahead for World Rhino Day. She searched online for ideas and potential collaborators, and found the Saving Rhinos website and blog.
Lisa Jane sent Rhishja an email, and the two found they shared a common goal of making World Rhino Day (started by WWF-South Africa in 2010) a day of celebration for all five species of rhino.
Meanwhile, the team at Rhino Africa prepared for their second World Rhino Day event in Cape Town, building on the success of South Africa's popular 2010 campaign.
In the months that followed, they worked together to make World Rhino Day 2011 an international success, both online and offline.
Building on the good will and momentum, Lisa Jane and Rhishja decided to continue working together as coordinators and promoters of World Rhino Day — for the rhinos and the people that love rhinos.
Check out the World Rhino Day videos from 2011 and 2012:
World Rhino Day 2011 video:
At the root of the rhino crisis is the myth that rhino horn contains curative properties. World Rhino Day highlights efforts to debunk the myths and diminish the demand for rhino horn.
World Rhino Day 2012 video:
FIVE RHINO SPECIES FOREVER!
---