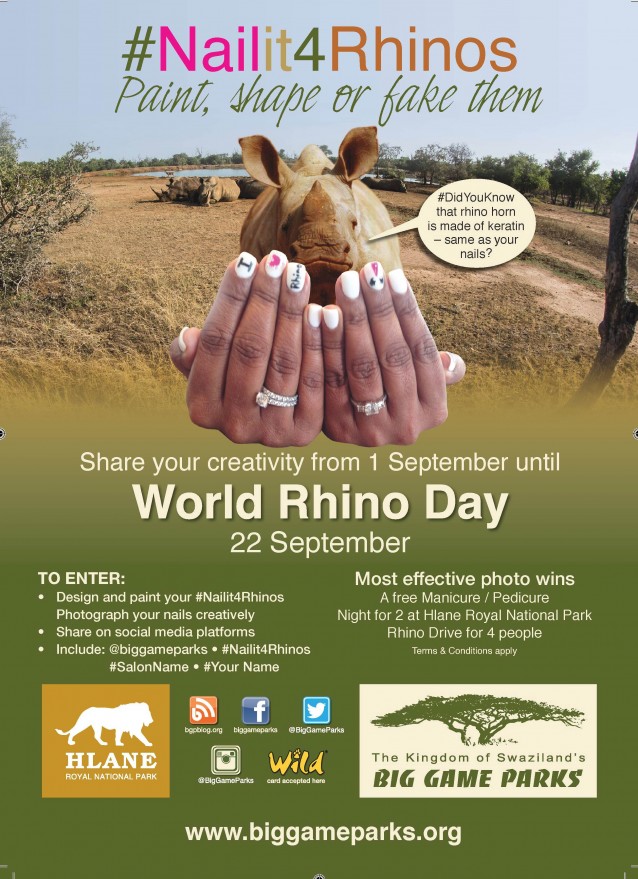 The Swazi Community can help take a stand to save the rhino by getting involved with the Nail it for Rhinos Campaign.
All they have to do is get creative with their nails from the 1st of September 2015. World Rhino Day is on Tuesday the 22nd September and the eventual winner will be announced on Social Media on the 22nd. They can color them, Shape them or Fake them; then take selfies (with the highlight of the picture being their nail craft) and share them on our official Big Game Parks instagram, facebook and twitter handles with the caption.
The most creative participant will walk away with:
One night for 2 people at Hlane Royal National Park plus a Rhino Game Drive.
We invite salons to participate by offering a manicure/pedicure prize along side this to stimulate more interest – We hope that if the client wins, the salon owner can join the winner on the game drive and offer the prize at her salon. The prize will be redeemed at the winner's salon, so only if your client wins, will your prize be taken up.
The winner will be "The most effective artwork seen in photo" selected from social media posts. This means the artwork must stimulate interest as a great rhino ambassador.
How to enter:
Design & paint your #Nailit4RHINO nails (Both Men and Women eligible)
Photograph your nails creatively
Share on your social media platforms and tag:
@biggamparks (twitter)
@BigGameParks (Insta)
Big Game Parks (FB)
#Nailit4RHINO
Your Salon's name
Your own handle
Most effective artwork seen in photo wins – T&C's apply
#NailItForRhinos.